How to install new files in MaSzyna?
On this website we describe how to install new files (locos, scenes etc.) in "MaSzyna" Simulator.
---
In this way you download from download section small *.r_i file only - it's file installer. After downloading you need to drag and drop this file on Rainsted icon. Next installer window will appear, after that push Instaluj paczkę button, now new loco / scene etc. will be downloaded and installed. After this new window will appear - confirmation of installation with 100% success :-)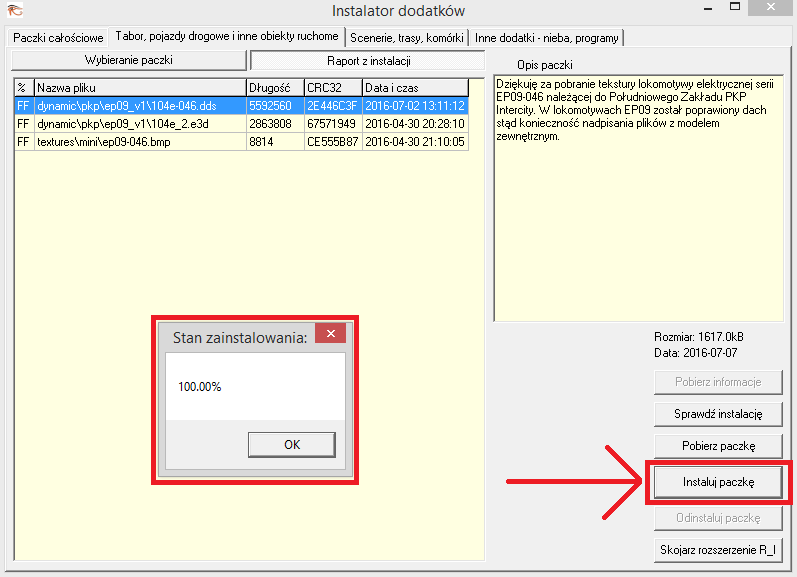 (hit to enlarge this pic)
Attention! If you install new loco or new texture, after installation you need to run Rainsted, get to Vechicles installed part and hit Check installed vechicles button.

(hit to enlarge this pic)
Publishing new locos / scenes etc. in this way is obligatory.
Attention! - you need to have 7-zip archiever installed on your PC - otherwise istallation process will stop at 0,00 %.
---
Tym sposobem użytkownik pobiera ze strony pobierania paczkę / archiwum z dodatkiem (zazwyczaj jest to Patch lub inne poprawki). Pobrane archiwum należy wypakować w głównym katalogu Symulatora - główny katalog, to katalog, w którym znajdują się takie katalogi jak /scenery czy /textures oraz plik eu07.exe czy starter Rainsted. Należy prawym przyciskiem myszy kliknąć na archiwum z dodatkiem i wybrać opcję Wypakuj tutaj. W tym momencie dodatek się poprawnie zainstaluje.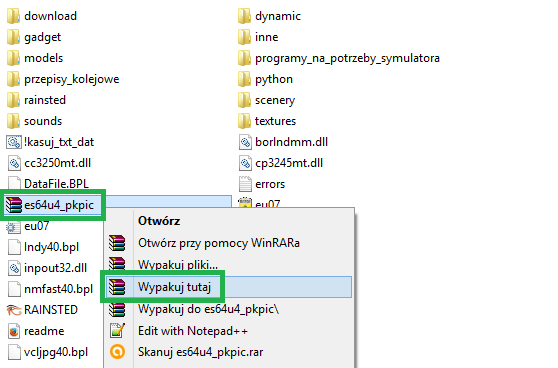 (hit to enlarge this pic)
W przypadku, gdy instalowany dodatek nadpisuje pliki (bardzo często!), należy potwierdzić ich nadpisywanie poprzez kliknięcie przycisku Tak na wszystkie lub Wszystkie (w zależności od wersji programu, który obsługuje archiwum).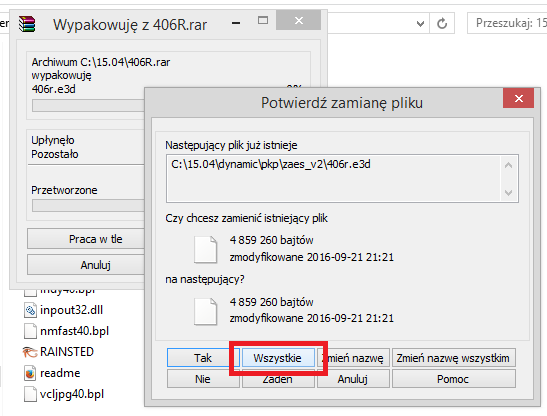 (hit to enlarge this pic)